Assistant Commissioner Michael John "Mike" Tyler is a main character in Taking Back the Night, a fanfiction story written by Little_kingsfan2005, and a peripheral character in Taking Back the Night: J-Mac's Gang and Taking Back the Night: Teenagers. He is a wholly original character – a product of the author's imagination, and any resemblance to actual persons, living or dead, is entirely coincidental.
Approximately 99% of the world's population doesn't know or believe. 60 million people, give or take a few thousand, do…
Biography
Edit
Assistant Commissioner of Field Operations for the California Highway Patrol, Assistant Commissioner Mike Tyler was born on September 11, 1965, and raised in Sunnydale, California. He graduated 8th in his class from Sunnydale High School in 1983, and was granted an appointment to the United States Military Academy (thanks to the recommendation of Sunnydale's Mayor, Richard Wilkins, and the city's Congressman), where he earned a degree in history and a commission as a 2nd Lieutenant in the US Army Reserve. He subsequently graduated from the police academy while serving in the Reserves, and got a job at the California Highway Patrol in 1989. He served in Desert Storm on active duty, before receiving an honorable discharge with the rank of 1st Lieutenant and returning to the CHP. Upon his return to the CHP, Mike spent two years as a junior officer with the CHP Border Division Unit in San Diego.
In 2001, Mike was serving as the Detective Sergeant of the CHP Lake Tahoe Field Office; it was at this post that – on his 36th birthday – 9/11 occurred. In the immediate aftermath, Mike considered returning to active duty in the Army, but was told by his commanding officer that at that time the Army didn't need a 36-year-old 1st Lieutenant and that he'd be of more use to his country by remaining a police officer. In December of 2001, he investigated a homicide of a hiker on the mountain, and was able to determine that the killer was supernatural. Unfortunately, he was unable to catch the killer until two years later, when he assisted the FBI in the takedown and vanquish in Virginia shortly after the formation of the PIU.
In late 2002, after 13+ years on the CHP, having worked in various positions all over the state, Mike was promoted to Captain and given command of the CHP South Sacramento Field Office. It was while he was at this post that his hometown of Sunnydale collapsed during the battle with the First Evil. Mike took the destruction of his hometown hard, and tried to take it out on the demonic population of Sacramento. However, after barely defeating and surviving Solato, a 50-year-old vampire, Mike realized he couldn't do it–take on the supernatural, extraterrestrial, and other forces of darkness–alone, and began recruiting help. And thus, the Paranormal Investigation Unit was born.
Mike's first recruit was Lieutenant Darryl Morris, the San Francisco PD liaison to the Charmed Ones. His first out-of-state recruit was then-Detective 1st John Munch of the NYPD Special Victims Unit.
In 2003, during his recruitment of Captain Haxorus (a nonhuman member of the Los Angeles County Sheriff's Department), the two had a brief run-in with Count Dracula who was in Los Angeles on "business" when they found him feeding off a Dracula groupie. Mike managed to stake the legendary vampire, but Dracula reformed and proceeded to knock out both the human and Saurian police officers, before taking his leave. Despite not killing him, Mike was given major props for actually managing to stake the most famous vampire of all time.
In 2005, a minor Goa'uld named Xerxes (inhabiting the body of Marine Staff Sergeant Dave Silas) traveled through Sacramento in search of the Chappa'ai (Stargate), where he appeared on Mike's radar. He and his partner, Officer Daphne Winters, attempted to apprehend the Goa'uld, but they were quickly and easily overpowered; Mike proceeded to call in all available members of his fledgling Paranormal Investigation Unit, including CHP Officer Archie Kendall, Det. Simone Magdalena, CSI Bruce Holden, SSA Chris Ballas of the ATF, US Army Colonel Jack Taylor and his daughter, Julie the Vampire Slayer, SFPD Lieutenant Darryl Morris, LASD Lieutenant Haxorus, and Captain Brad Coleman of the CSPD. Together, the various LEOs combined their forces to take down the Goa'uld once and for all.
Mike was promoted to Assistant Chief in 2008, and officially given a post as an Assistant Chief of Operations at CHP Headquarters. Between his work in the CHP, his Army service, and his creation of the PIU, Mike has many friends, allies, acquaintances, and enemies all around the world, many of whom know that if they ever have a supernatural problem, particularly with regards to criminal activities, to contact him.
In 2009, Mike and the PIU became aware of a darklighter, Vardeth, who had learned how to take the poison out of his crossbow bolts and put it into bullets. In the climatic shootout between the PIU and Vardeth, the darklighter shot Mike in the shoulder and mortally wounded Insp. Trudeau, the PIU's whitelighter. Due to the unique characteristics of Vardeth's poisoned bullets, Mike's wound has rendered him impervious to a whitelighter's healing powers.
By 2015, Mike had been promoted to Assistant Commissioner of Field Operations for the entire California Highway Patrol.
Paranormal Investigations Unit
Edit
An unofficial, multinational conglomerate of law enforcement officers. First assembled in 2003 in the aftermath of the destruction of Sunnydale, California, the PIU is comprised of a network of law enforcement, legal, medical, military, and political personnel from all over the world. The PIU's leader is Assistant Commissioner Mike Tyler of the California Highway Patrol, a West Point graduate who grew up in Sunnydale. Members of the PIU include a Vampire Slayer, a former Watcher-turned-Interpol officer, some peaceful/non-hostile non-humans, and numerous police officers from all over the globe.
While the PIU has been a success in finding and apprehending common criminals, it was not until they stumbled upon a rogue Goa'uld named Xerxes, a former member of Ra's court, in the body of an American soldier that they became recognized as a "legitimate" anti-paranormal team.
Despite being completely unofficial, the PIU has been recognized by the governments of the world; usually, if a paranormal case comes up, somebody calls somebody who is either a member of the PIU or affiliated with them, and they come in and help "off the books".
The PIU's track record with the so-called "experts" vary from team to team, from those who view the PIU as rank amateurs out of their league to those who welcome the assistance of law enforcement and the reprieve from having to dodge and/or lie to the authorities.
Here is a list of some of the more prominent members of the PIU.
In Sacramento
Edit
Assistant Commissioner Michael John "Mike" Tyler, CHP – Founder/Leader
Sergeant Daphne Nicole Winters, M.P.A., CHP
Officer William Thomas "Billy" Evans, A.A., CHP
Nurse Practitioner Nicole Miller, M.S.N.
Julie Taylor, B.Sc., the Vampire Slayer
Dr. Gary Jameson, M.D., Ph.D., CHP – Psychiatrist
Inspector Bruce Holden, SacSD – Crime scene investigator
Sergeant Archibald "Archie" Kendall, CHP – Driving instructor, CHP Academy
Captain John Patrick "Sully" Sullivan, CHP Air Operations Unit – Helicopter pilot
Sergeant Jason Eric Shelton, SacPD SWAT Team – SWAT Team Commander
Chief Deputy District Attorney Elliot James Davidson, SacDA Major Crimes Unit
DA Investigator Melinda Anderson, SacDA Major Crimes Unit
Supervisory Special Agent Christopher Robert "Chris" Ballas, ATF
Outside of Sacramento
Edit
Detective Captain Kelly Marie Gaines, Cleveland PD Homicide
Captain Haxorus "Hax", LASD – Los Angeles County liaison to the non-human community
Inspector Andrew "Andy" Trudeau, SFPD Homicide – Whitelighter to the PIU (KIA, 2009)
Captain Darryl Morris, Oakland PD
Sergeant John Munch, NYPD Special Victims Unit (Ret. 2013)
Detective III Ricardo "Rick" Morales, J.D., LAPD Robbery-Homicide Division
Captain Bradley "Brad" Coleman, Colorado Springs PD
Lieutenant Hugh Covel, Nashville PD Homicide
Captain Stella Wade, A.A., Mobile PD Special Victims Division
Detective Thea Salinas, Orange County SD
Detective Anna Maria Kent, A.A., Cheyenne PD
Supervisory Special Agent Jessica Elizabeth "Jess" Hanson (née Martin), Ph.D., FBI Laboratory
Chief Warrant Officer 4 Jacob A. "Jake" Stiles, B.A., US Army CID
Senior Special Agent Oscar "Oz" Gale, MBI – Magical Bureau of Investigation liaison to the PIU
Senior Agent Cyrus Eugene Washington, GC, D.Hum., Interpol
Detective Pedro José Morales, Tijuana PD (KIA, 2010)
Detective Inspector Kenji Matsumoto, J.D., Tokyo Metropolitan PD
Lieutenant Colonel Marik el-Rashid, Ph.D., Egyptian National Police
Associates
Edit
Here is a list of some prominent associates of the PIU, although they are not full members.
Inside Sacramento
Edit
Amanda Fields, J.D., California Attorney General
Detective Simone Magdalena, CHP
Lieutenant Ronald Anthony "Ron" Thompson, CHP Office of Internal Affairs
Assistant Commissioner Esmeralda Carpenter, CHP – CHP Assistant Commissioner of Media Relations
Detective Brett Jennings, SacPD Homicide
Assistant District Attorney Katrina Leanne Ring, SacDA Major Crimes Unit – Assistant District Attorney
Peter Andrew "Pete" Johnson – Founder & CEO, PAJ Construction
Samuel T. "Sam" Cook, Attorney-at-Law – Sacramento County Public Defender
Senator Steven Joseph "Steve" Morton, US Senate – United States Senator from California
Outside of Sacramento
Edit
Captain Thomas "Tommy" Hicks, SFPD
Colonel Jack Taylor, US Army
Lieutenant Arthur C. Merriman, USCG
Brigadier General Thomas "Tommy" Blane, USMC – Commanding Officer, Joint Task Force-666
Lieutenant Colonel Paul Davis, USAF – Pentagon Liaison to the PIU (among other classified, secret, and/or unofficial programs)
Supervisory Special Agent Ian Edgerton, FBI
Operations Manager Henrietta "Hetty" Lange, NCIS Office of Special Projects – Operations Manager, NCIS Office of Special Projects
Lieutenant General Jonathan J. "Jack" O'Neill, USAF (Ret. 2012) – Commanding Officer, Homeworld Command
Prudence "Prue" (KIA, 2001), Piper, and Phoebe Halliwell & Paige Matthews, the Charmed Ones
Commissioner Francis X. "Frank" Reagan, NYPD – New York City Police Commissioner
District Attorney John James "Jack" McCoy, NYCDA – New York County District Attorney
Richard Edgar "Rick" Castle, NYPD Homicide
Chief Cordell Walker, Texas Rangers – Chief of the Texas Rangers/Assistant Director, Texas Department of Public Safety
Captain James "Jimmy" Trivette, Texas Rangers
Education
Edit
1983 – Sunnydale High School, Sunnydale, CA
1987 – Bachelor of Science degree in History – United States Military Academy, NY
1989 – California Highway Patrol Cadet Academy – Sacramento, CA
List of assignments
Edit
1987–1989 – Junior Officer, United States Army Reserve
1988–1989 – Cadet, California Highway Patrol Cadet Academy – Sacramento, CA
1990–1991 – Junior Officer, United States Army
1992–1994 – Junior Officer, CHP Border Division Unit "Mexico Liaison Unit" – San Diego, CA
1994–1995 – Patrol Officer, CHP Coastal Division – San Luis Obispo, CA
1995–1996 – Junior Detective, CHP Northern Division – Redding, CA
1996–1996 – Detective, CHP Southern Division – Glendale, CA
1996–1999 – Senior Detective, CHP Inland Division – San Bernadino, CA
1999–2002 – Detective Sergeant, CHP South Lake Tahoe Field Office – South Lake Tahoe, CA
2002–2008 – Commanding Officer, CHP South Sacramento Field Office – Sacramento, CA
2008–2015 – Assistant Chief of Operations, CHP Headquarters – Sacramento, CA
2015–Present – Assistant Commissioner of Field Operations, California Highway Patrol – Sacramento, CA
Effective dates of promotion
Edit
United States Army
Edit
1987 – 2nd Lieutenant
1989 – 1st Lieutenant
California Highway Patrol
Edit
1989 – Officer
1995 – Detective
1999 – Detective Sergeant
2002 – Captain
2008 – Assistant Chief
2015 – Assistant Commissioner
Personal life
Edit
A native of Sunnydale, Mike's great-great-great-grandfather moved to California after the American Civil War; Mike now lives in Pocket, a neighborhood in South Sacramento off of I-5, with his girlfriend of almost 10 years, Heather Adkins. A few weeks before the destruction of Sunnydale in 2003, his parents, Johnny and Gladys Tyler, moved from Sunnydale to Rancho Murietta in Sacramento County to enjoy retirement and be closer to their only son. Mike remains in contact with many of his fellow "Sunnydale survivors" from his high school days, including Capt. Kelly Gaines of the Cleveland PD (his high school prom date), Rob Williams, the younger brother of one of his closest friends who died in '83, Casey Dunn, a retired Major League Baseball player, and T.J. Carver, who became a homeless drug addict after Sunnydale and Army life (and died of a drug overdose the night Sunnydale was destroyed).
While not working, Mike enjoys playing basketball (he played varsity basketball at Sunnydale High and on the Army's bench while at West Point) and baseball, swimming, reading a good book, watching movies, and hanging out with his girlfriend. He is an able cook, although nowhere near a master chef. He is a fan of Star Trek, comic books, and has been a loyal subscriber to Sports Illustrated and Playboy since he was a pre-teen.
In November 2012, Heather learned she was pregnant with her's and Mike's first child. She gave birth to a daughter, Courtney Emma Tyler, on June 17, 2013.
Superpowers, weapons and equipment
Edit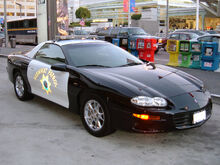 As a senior officer with the California Highway Patrol, Mike drives a CHP Camaro as his duty vehicle and carries a Smith & Wesson Model 4006 TSW pistol in .40 S&W with a tactical light as his sidearm, with a snub-nose .38 Colt Detective Special as his backup piece. He currently has no regular partner, although his former Probie, Sergeant Daphne Winters, fills the position when he undertakes criminal investigations. He wears an Omega Seamaster wristwatch (which doubles as his wrist communicator) and a West Point Class Ring (which he has since had blessed to protect him from various magical spells).
Ad blocker interference detected!
Wikia is a free-to-use site that makes money from advertising. We have a modified experience for viewers using ad blockers

Wikia is not accessible if you've made further modifications. Remove the custom ad blocker rule(s) and the page will load as expected.