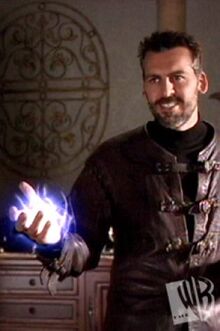 Zankou is a recurring character of Seeing is Believing, a fanfiction story written by Little_kingsfan2005. He is adapted from the fictional character portrayed on Charmed by Oded Fehr.
Biography
Edit
Early life and imprisonment
Edit
A demon so powerful, only the Source of All Evil was able to defeat him in one-on-one combat. At almost 4,000-years-old, Zankou was one of the most powerful and dangerous demons in the Underworld. Unlike most demons, Zankou not only had a brain, but he knew how to use it; his power came not only from his magical abilities, but also from his use of patience, psychological warfare, tactical and strategic analysis, and his willingness to put aside his personal feelings and work with his enemies to achieve a common goal (before stabbing said enemies in the back, of course).
After being rejected by the Source's Seer in the early 1200s, the Seer named Kyra became the personal consort and seer of Zankou, a position she held for almost three hundred years. To Zankou, Kyra was not just some sex-toy, but also a valuable asset who often told him where to find the people he wanted to find. In fact, Kyra's foresight aided Zankou's survival and power.
Around 1500 AD, one of Zankou's rivals, a tattooed demon, vanquished the Source of All Evil in an attempt to usurp the throne. The two had a long and hard-fought battle, in which Zankou gouged out his eye left a number of the Source's facial scars. After taking power, the Source destroyed Zankou and imprisoned him in suspended animation before he could reconstitute himself.
Release and coup
Edit
Zankou was released from suspended animation by Paige Matthews in early 1996, when the Avatars rewrote the world to implement Utopia. With his help, Paige was able to force the Avatars to undo the damage they wrought and drove them out. Since then, the two have enjoyed a live-and-let-live relationship, as well as a mutual physical attraction.
In the aftermath of the Avatar Incursion, Paige and Zankou were both brought before the Tribunal of Magic to face numerous charges, most specifically the revelation of magic to mortals, interfering with the Grand Design, and consorting with the Forces of Good against the Forces of Evil. Zankou, who had only been out of stasis for a few weeks, was able to beat the charges by appealing to the Tribunal's demonic members that they needed a demon of his caliber working on their side, to offset the so-called advantage that Good had against them. Paige, with the help of Cole, who served as her legal representation, was able to prove that, despite the fact that she had technically broken those rules, she was doing good work, and that without her powers (or her life), that work would come to an end. After the trial, Zankou invited Paige to a celebratory drink…and the two of them "accidentally" woke up with each other the next morning.
With the defeat of the Avatars, Zankou has begun plotting to vanquish the Source and usurp the throne for himself. To that end, he's been scouring both the Underworld and Earth in search of both allies and underlings who'll support him in his bid to overthrow the Source. Among his many preparations was establishing a human identity, Nicholas Ansari, a wealthy international banker. Shortly after that, he seduced and turned Katherine Henderson from neophyte witch to totally devoted warlock within two weeks. He launched his coup d'état later that year, which plunged the Underworld into civil war.
Having launched a surprise attack, Zankou's coup began well, but he was betrayed to the Source by one of his underlings, which forced him to retreat aboveground. While on Earth, Zankou and his army were helped by Paige and members of her Coven – despite the Elders' decree that all magical beings on the side of Good not take sides in the Civil War. When Zankou decided to take his forces and return to the Underworld for a final battle with the Source, he is accompanied by the Matthews Coven, who volunteered to fight the various demons, warlocks, and other miscellaneous creatures of the Underworld while Zankou and the Source engage in one-on-one battle to the death. Zankou emerged from the battle broken and bloody but victorious, and was declared the new Source of All Evil.
As the Source
Edit
Having succeeded in his coup, Zankou began to take charge of the Underworld. He inherited all of the Source's personnel, including his advisors, consorts, and even Shax, who all swore allegiance to Zankou as the new Source. His personal Council included various Upper-level demons, including Tempus, as well as – for the first time – a senior darklighter named Talent and a powerful warlock named Matthew Tate.
One of his first orders of business was to repay Paige and her allies for their assistance by requesting/demanding the Elders not follow through with the threat they'd made to strip the magical members of the Matthews Coven of their powers should they participate in the Civil War. He also used his position to surreptitiously pay Glen Belland, Paige's mortal boyfriend, who ventured to the Underworld and lost his arm in face-to-face combat with the Source.
Also, due to the changes in the magical world brought about over the past few years (in fact, ever since Paige became aware of her magical abilities), Zankou made an unprecedented decision – he officially opened up diplomatic relations with Earth, and even appointed an Ambassador. With the opening of the Underworld Consulate in San Francisco, relations between Earth's magical community and the Underworld underwent a significant change – one that certain members on either side didn't like.
Superpowers, weapons, and equipment
Edit
Zankou's powers are among some of the most powerful:
Energy balls
Fire balls
Energy blasts
Telekinesis
Conjuring
Reconstitution
Shapeshifting
Sensing
Flaming
In addition, Zankou is trained in martial arts, marksmanship, and numerous weapons, and had apprenticed with the Potions Sorcerer nearly 1,000 years ago, leaving him with knowledge of potions, poisons, and antidotes.
Since his release from suspended animation, Zankou has ventured up to the human world, where he used his powers to assimilate the knowledge required to possess a Master's of Business Administration degree, which he utilizes in his human identity; he has also amassed an arsenal of weapons ranging from swords and athames to automatic projectiles and rocket-propelled grenades, in addition to various magical weapons.
Ad blocker interference detected!
Wikia is a free-to-use site that makes money from advertising. We have a modified experience for viewers using ad blockers

Wikia is not accessible if you've made further modifications. Remove the custom ad blocker rule(s) and the page will load as expected.